Welcome to Village Music
Celebrating Our 11th Year
VillageMusic in Mt Eden began with a simple idea, "That old hall'd make a great place for a concert Johnny...". "Let's do it then".  And so it started. The old Mt Eden wooden hall provides a unique, intimate and convivial "listening" environment to present all kinds of live music, across most (but not all) musical genres. We host 6-7 Friday night concerts throughout the winter, from roughly April to November. We keep it eclectic and we always have a great evening. 

As one concert has lead to another through ten winters, VillageMusic has played host to a rather large number of New Zealand's (and the 'world's' for that matter) best and most talented musicians, across a wide spectrum of musical genres and styles, from solo artists such as Julia Deans, and Greg Johnson, to the Jubilation choir, our Jazz Greats like Nathan Haines, our country Greats like Tammi Neilson and Donna Dean, contemporary artists like Lou'ana Whitney and Jan Hellriegel, virtuoso players like Nigel Gavin, Mark Mazengarb and Jess Hindin, overseas guests like Katie Martucci and Loren Barrigar - even rock bands like 'The Narcs', Eddie Raynor's 'Conrays', 'The DeSotos' and Rikki Morris ...and never forgetting 'The Lady Killers' (Suzi Lynch, Tina Cross & Jackie Clark - with Annie Crummer as a guest....wow).... and as sad as it is to miss some artists out, the list goes on for a quite bit longer.

Often the audience is spellbound, transfixed by the music and the musicianship, then again, just as likely to pull the tables back and start dancing. That's a 'village thing' I guess. But it's the musicianship, the personalities and the music that weaves the spell and sets the scene. That's the magic of live music and that is what a VillageMusic Soirée is all about. 

As always, bring friends, bring family, bring your ears and BYO.
Next Gig 06 May 2022: Sam Ford &amp Trudi Green
And we're off! The first VillageMusic soirée for 2022 is all go - and after 2 years and 2 postponements - it's a real pleasure to finally be able to bring Jonathan Crayford to the old hall along with Frank Talbot, Hank Trenton and Maximilian Crooks - this is gonna be a great night of the coolest jazz in town - definitely one for the jazz lovers and anyone else who appreciates truly fine musicianship. See you at the door!
---
---
Postponeded Gig October 2021: Sam Ford &amp Trudi Green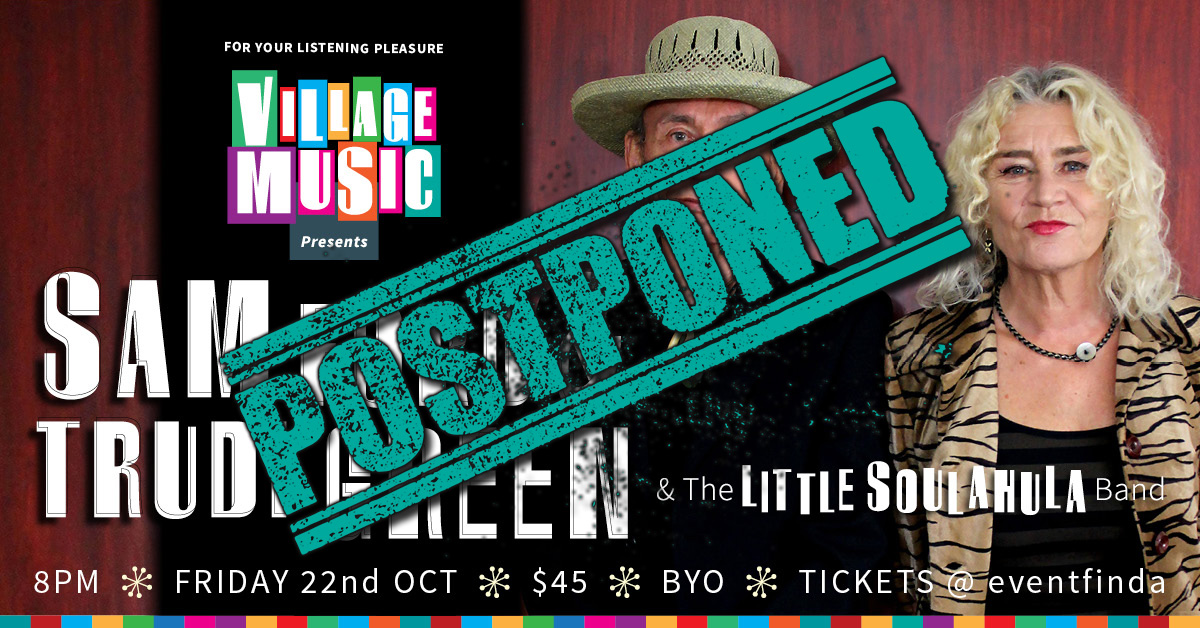 As you will have probably expected, yet again we're having to POSTPONE our next concert due to this COVID19 situation.
We haven't got an alternative date as yet, but as soon as we do, you'll be the first to know.
For those of you who purchased tickets, they will of course be valid for the new date - however if you'd prefer a refund, then simply request via email to  support@eventfinda.co.nz  and they will drop the funds back to your account.
Thanks in advance for your understanding and your support - Let's all hope that we can get back to some normality soon. Let's stay safe and let's all stay positive.
Cheers - Wayne.
---
Postponed Gig Fri 10th September 2021: Jonathan Crayford, Mostyn Cole and Miguel Fuentes
As you will no doubt be expecting - due to the current COVID lockdown, we've had to postpone our second attempt to host Jonathan Crayford for a VillageMusic Soirée.
It is a great pleasure to welcome Jonathan Crayford, Mostyn Cole and Miguel Fuentes to the VillageMusic stage. This will be a great opportunity to hear the Latin style played by three of the finest. We're looking at a 'cool factor' of around 10. Feel free to wear shades.
Here's some background on Jonathan:
Jonathan Crayford is an award winning pianist, multi-instrumentalist and film composer from New Zealand. Immersing himself in the New York scene, Jonathan worked with notable musicians honing his talent in the genres of Jazz, Latin jazz, Funk and Classical music. He has worked with Kurt Rosenwinkel, David Binney, Mambo Macoco, Groove Collective, David Murray, Tony Allen, Questlove, Macy Gray, Bobby Carcasses and many others internationally. His last two (trio) albums feature Ben Street and Dan Weiss. Having an original approach to composition, Jonathan has been involved in many film
soundtracks, albums, and bands.
And here's what Jonathan has to say:
Speaking of Mambo Macoco mentioned above as pertains to upcoming Mt Eden concert: I'm lucky enough to have the opportunity to put a small band together featuring the great mastery of Miguel Fuentes on congas and percussion. He is a seasoned practitioner of all kinds of groove music especially Afro/Cuban anything. Joined by the equally savant Mostyn Cole on bass I will be presenting some tunes out of the book of Mambo Macoco – Latin Jazz to those who need their genre fix. We will also present some new tunes off the page. Please come, listen and dance to this wonderful and joyous energy.
Some Very Flattering Quotes:
A huge talent, Jonathan is a true original who explores creative musical opportunities, when or wherever they might arise. I consider him to be one of the very finest creative musical talents to have ever come from Aotearoa. - Mike Nock
"He's an artist embedded so deeply within his music that his persona reflects in those terms. It's as if he were the embodiment of sonic shapes and forms." - John Fenton
"This is the kind of piano I totally relate to: exploratory, thoughtful, soulful, focused. Those qualities are all sort of contradictory, or at least contrasting, which is why this kind of work is meaningful: because it is multi-dimensional." - Thomas Conrad Jazz Times
And here's the ticketing link
.
---
Previous Gig Fri 30th July 2021: Dianne Swann & the Dianne Swann Band
Dianne Swann - WHAT a great evening that was - big thanks also to Ben King on vocals and guitars (genius), Brett Adams guitars (more genius), Karin Canzek bass (such a fine player!), Tom Broome drums (perfect rhythms) and Dave Khan Keys (solid as musical genius)...
PLUS special guest Tom Cunliffe & Eamon (on Dbl bass), with Dave on keys and violin - great stuff ... Yet another very special VillageMusic memory - So good to recognise so many faces in the audience - 24 hours later and I'm still buzzing - big thanks to all who turned up to fill the hall and make for such a great musical experience - I'm grateful.
---
Previous Gig 07 Mar 2021: An Evening with The Black Quartet
11 years ago we began this VillageMusic journey so it was fitting that the lads performed for us again at the start of what we hope will be another 10 years of very fine musical occasions in the old Mt Eden Hall.

These guys are right off the top shelf of New Zealand live performers.

---
---
Previous Gig 1 November 2019: Jan Hellregel
i
Jan has recently produced not only a new album of songs, but also a book. "Sportsman Of The Year - A Suburban Philosophy" is Jan Hellriegel's 4th studio album, with a unique twist: it is also a beautifully produced book with photos and 12 chapters based on the new songs. She describes Sportsman of the Year as a 'musical in a book'. The book grew out of her album project when Jan realised the songs were taking a more philosophical, personal direction. She decided to share some stories in parallel with the music, each informed by the other. It includes access to high quality music files.
---
---
Previous Gig 18 October 2019: Harry Lyon in Concert
Kiwi music icon Harry Lyon played an intimate show at one of the popular Mt Eden "Village Music" concerts on Friday 18th October. "When Wayne approached me about performing at one of his Village Music shows I jumped at the opportunity. Playing semi-unplugged with a trio means the relationship with the audience is more personal and intimate, and I really enjoy that." - Harry Lyon
Harry was co-founder, guitar player and songwriter with NZ Hall of Fame band Hello Sailor. His songwriting credits include, Lying in the Sand and Watch Your Back from Sailor's award- winning first album, Dr I Like Your Medicine,1981 Single of the Year for Coup D'Etat, and Muscles, that featured on Midge Marsden's Burning Rain album and was a 1991 APRA Silver Scroll finalist. Harry also played with The Pink Flamingos, Hammond Gamble and The Legionnaires for whom he wrote the Top 20 single You Bring Out the Worst in Me.
To the Sea is the first solo album for Harry Lyon. Produced by Lyttelton's music auteur Delaney Davidson the album showcases Harry's array of styles and influences with classic Kiwi rock, New Orleans vaudeville, Latin, Pasifika, country and a Christmas ballad for good measure. Lyrically subjects range from love songs to a life well lived and Harry's usual wry political and social observations.
The reviews were unanimous in their praise; "..an album of so many highlights" (Simon Sweetman)
"It should come as no surprise that Harry Lyon writes a great album," (Graham Reid)
"They don't make them like this anymore. Classic Ponsonby Rock n Roll grooves." (Andrew Dickens, Newstalk ZB)
"The combination of Davidson's outsider music, which has been fairly described as country noir, and Lyon's warm, older school rock and blues, fits together in an act of near perfect musical serendipity.
As the best albums do, "To The Sea" appeals at first listening, only to reveal more and more charms the further you immerse yourself in it." (Phil Gifford, North and South, 2018)
"Harry Lyon's solo debut is a raw relevant rocker" (James Belfield, NZ Listener, 29/10/2018)
Harry's set will feature Sailor favourites, songs from his back catalogue, and of course some from his critically acclaimed Top 10 solo album "To The Sea". He will be joined by;
Tony Waine (Bass): Tony is an APRA Silver Scroll winner and founder of award-winning kiwi band The Narcs. The band's debut gold album Great Divide earned 5 RIANZ Awards including Single of the Year for their Top Ten hit Heart and Soul. Tony has written songs with Shona Laing, Buzz Moller, Authur Baysting. He produced the Best of the Narcs album and Christchurch The Music, the double CD compilation.
Josh Sorenson (Drums): Josh is an in-demand drummer and respected music educator. He has played, toured, and/or recorded with a veritable who's-who of NZ music artist, including; King Kapisi, Sola Rosa, Annie Crummer, Nathan Haines, Joel Haines, Hammond Gamble, Rikki Morris, Debbie Harwood and Hello Sailor. He has been a He also composes, arranges and plays for his own original rock band Royal Jackets.
"To the Sea" out now on CD/LP/Digital. (Norm Records/ Southbound Distribution).
CDs and LPs available at Harry's shows.
---
Previous Gig 26 July 2019: MEL PARSONS
Hi everyone,
For our next listening treat, VillageMusic is proud to present Mel Parsons in concert, for soirée No.3 of our winter series.
Mel has been on our radar for some time now and her superb album "Glass Heart", produced by none other than Mitchell Froom (Crowded House, Suzanne Vega, Elvis Costello, Missy Higgins, Randy Newman, Lindsay Buckingham/Christine McVie) has been playing on a regular rotate here at VillageMusic since its release. This follows 2015's award-winning 'Drylands', which spent 51 weeks in the (IMNZ Album) charts.
Mel Parsons is no stranger to the limelight – As a full-time touring artist Mel has garnered a Silver Scroll finalist nod for 'Get Out Alive' in 2015, won the 2016 NZCMA Best Song for 'Alberta Sun' and the VNZMA for Best Engineer for the 'Drylands' record. Both her debut album 'Over My Shoulder' (2009) and sophomore offering 'Red Grey Blue' (2011) were also VNZMA finalists for Folk Album of the Year. Parsons is also a former cast member of Kiwi musical supergroup 'Fly My Pretties', with sell out tours and festival performances throughout Australasia.
Most recently, Mel has been touring as support act for The Proclaimers. No small achievement and yet more recognition of Mel's solo talents.
This will be a terrific opportunity to see and hear Mel Parsons in the intimate setting of our lovely old wooden hall - certainly a concert 'not to be missed'.
Here's what the critics have had to say:
"Singer-songwriter Mel Parsons confidently held her large audience with a captivating set of recent work and impressive new material" 
- NZ Herald
"The true star here is Parsons' voice." 5/5 stars 
- The Aucklander
"Instantly appealing to fans of Jolie Holland or The Be Good Tanyas...... Locked together through pure emotional heartbreak and wonderfully vibrant imagery..simply beautiful." 8/10 
- Einstein Music Journal
"Keeping the crowd was a measure of the power and intimacy of her performance as much as how her songwriting grips for its intensely personal touch." 
- Graham Reid, Elsewhere
" 'Drylands' mines a songwriting seam rich in both confidence and subtlety" 
- Shane Gilchrist, Otago Daily Times
" 'Drylands' mines a songwriting seam rich in both confidence and subtlety" 
- Shane Gilchrist, Otago Daily Times
"Parsons is in possession of a wonderfully rich voice. There is a smoky quality that makes it impossible not to be drawn into her lyrics" 
- Marty Duda, The 13th Floor
"Mel Parsons was on song drawing a huge following" 
- Taranaki Daily New​s
See you at the door!
---
Previous Gig 7 June 2019: KATIE MATUCCI
---
Previous Gig 3 May 2019: HOPETOUN BROWN
---
Previous Gig 9 November 2018: VillageMusic Season Finalé
If VillageMusic is one thing, it's eclectic - and for our 2018 season finalé, we're bringing back the jazz! 
For the first time to our stage we have Neon Quaver - David Lines, Richard Adams, Nigel Gavin and Richard Ghent who are now developing the unique quaver sound, of electro acoustic instrumentation with no rhythm section, in preparation for recording in early 2019.  Their repertoire ranges from original instrumental compositions that are melodic and rhythmical, in the flavour of Lyle Mays and Keith Jarrett with a number of covers from Rickie Lee Jones, Split Enz, Sting etc; that are particularly suited to the instrumentation and vocal range the quavers explore.
And to make the evening even more enjoyable, we are real pleased to bring both the Gitbox Rebellion back for another gorgeous turn on the turkish rugs and the extremely talented Caitlin Smith, who has also graced the VillageMusic stage on more than a coupe of occasions - It's like having family comin' along! 
This will be a very fine listening treat of a Friday night and a perfect way to end the week - See you there!
---
Previous Gig 17 August 2018: Rikki Morris with special guests
This will be a cracker. 
Rikki Morris has a New Zealand musical pedigree as long as your arm, not just as a fine songwriter, studio producer and performer, but also as a great live sound engineer.

It's not often we get to enjoy a full performance of Rikki's work and Village Music is especially proud to host Rikki and his band for one night only.

Named after a lyric in one of his brother Ian's original songs, Rikki will be joined by his band 'The Endless No'.
Chet O'Connell - guitar, Mark Hughes - bass, Mark Steven - keys, Josh Sorenson - Drums.

Rikki has promised to add a couple (or more) 'special guests' including his talented daughter Gala Morris who will be opening the show, and will be performing his #1 hit 
'Nobody Else', 'Heartbroke' which won the APRA Silver Scroll in 1991 as well as songs from his album 'Everest' and also a handful of brand new songs never played 
in public before!

'Time to put the band back together, hit the stage and share a lifetime of songs amongst friends in an intimate setting'. 

This will be a night to remember for sure. Definitely not to be missed. See you on the night.
---
Previous Gig 6 July 2018: Nigel Gavin and the amazing GITBOX REBELLION, along with Donna Dean and our special guest John Egenes
It's Soirée time again!
And what a fine line-up we have for this concert - Nigel Gavin and the amazing GITBOX REBELLION, along with Donna Dean and our special guest John Egenes.
This will be a great 'listening concert' for sure! 
---
Previous Gig 9 Mar 2018: Mark Mazengarb, Joe K. Walsh & Andrew VanNorstrand
New year's greetings to all you Village Music supporters and fans.
This year will mark our 8th year of bringing live music to the old Mt Eden Village Hall. (aka The Mt Eden Village Centre).
And for this Soirée season, we currently have six 
Friday
 concerts booked or pencilled-in for our mutual listening pleasure, from March to October. We may even do seven nights if all the stars align. :-)
To kick off this year's season we have an extra special treat with the return of Mark Mazengarb to the Village Music stage, along with Joe K. Walsh & Andrew VanNorstrand, directly from the USA.
To say that Mark is a virtuoso guitar player is putting it somewhat mildly. If you were fortunate to be able to attend our previous show with Mark & Loren Barrigar back in 2013, or if you've heard Mark on RNZ, you will know just what I mean.
So when Mark brings a fiddle player and a mandolin player over from the States to join him in concert - you just know that we are all in for a listening treat.
As curator of these concerts, I can honestly recommend this as a great way to spend a 
Friday
 night - bluegrass and western swing are musical genres close to my heart and these guys are right off the top shelf.
As previous Village Music goers, you know just what a great night our soirées always are, so as we always say - Bring your ears, bring friends, bring family, BYO, grab a table and settle in for a great 
Friday
 night of conviviality and live music.
---
Previous Gig 10 Nov 2017: The Andrew London Trio
Previous Gig 29 Sept 2017: Louis Jarlov & Julio/The Remarkables
Previous Gig 25 Aug 2017: Sarah Spicer
SARAH SPICER and The BLUE RIDERS is a collective featuring NZ X Factor star performer singer/songwriter Sarah Spicer with The Blue Riders: Liam Ryan (keyboards), Buck Croyden (lap-steel and guitars), Wayne Melville (bass) and Jeff Baker (drums and percussion).
Sarah spent 10 years playing in the USA alongside the cream of American blues artists in the San Fransisco/Bay area including John Lee Hooker with whom she recorded. She has two albums of original songs and is currently collaborating on a third album with The Blue Riders in Liam Ryan's Torch Music studio.
 Sarah delivers a deeply moving performance. Her powerful voice and soulful songs explore the road back from stardom and the inner journey to the heart.
 We experienced atmosphere, real emotion and rare simpatico as Sarah weaved her magic with her seasoned, hand-picked band.
 Check out Mr Johnson, her recently released exquisite tribute to blues legend Robert Johnson:
 https://www.youtube.com/watch?v=ly2MunGtPiQ
---
Previous Gig 11 Aug 2017: Greg Johnson
The first of 2 gigs for August -
It was wonderful to hear this consumate professional play those ever familiar tunes along with some great new stuff all accompanied by an equally professional band. That was a great night!
---
Previous Gig 7 July 2017: Donna Dean and Brent Parlane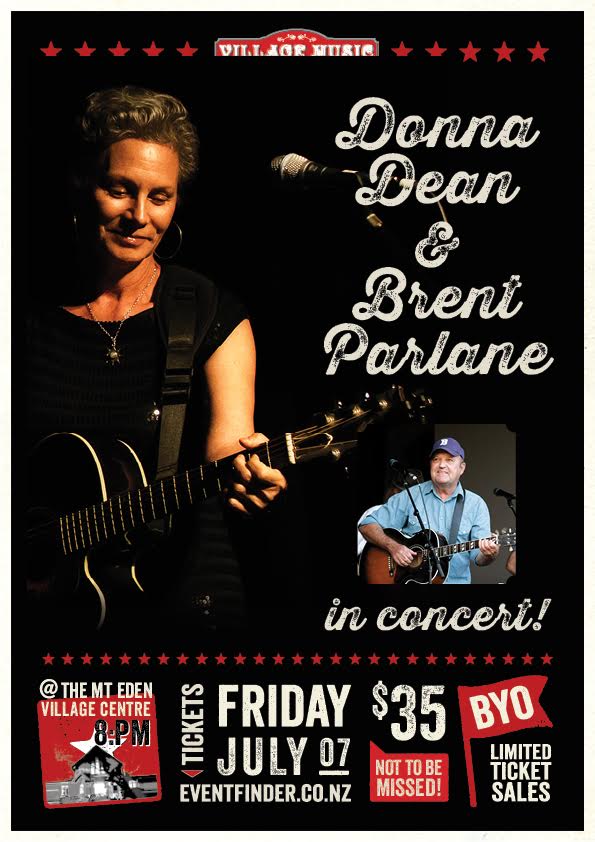 Real pleased to welcome Brent Parlane (ex Melbourne and currently on a world tour) to our concert series and to bring Donna Dean (Tui winner) back to our stage. Donna was one of our first concert performers for VillageMusic and what a great night that was. Following that performance, Donna has won a Tui, been the subject of a documentary, played Nashville and released a whole lot of new material. Brent Parlane is one of our great musical exports. Many of us will recall his famous days in the New Zealand country music scene. Brent plays regularly around Australia and has maintained a steady output of original music to a loyal fan base. Donna and Brent have performed together in Melbourne and for this show will be joined with a couple of guest musicians for backing on bass and guitars.
This will be a very special evening. As always, bring friends, bring family, bring your ears and BYO.
---
Previous Gig 7 Apr 2017: Wayne Gillespie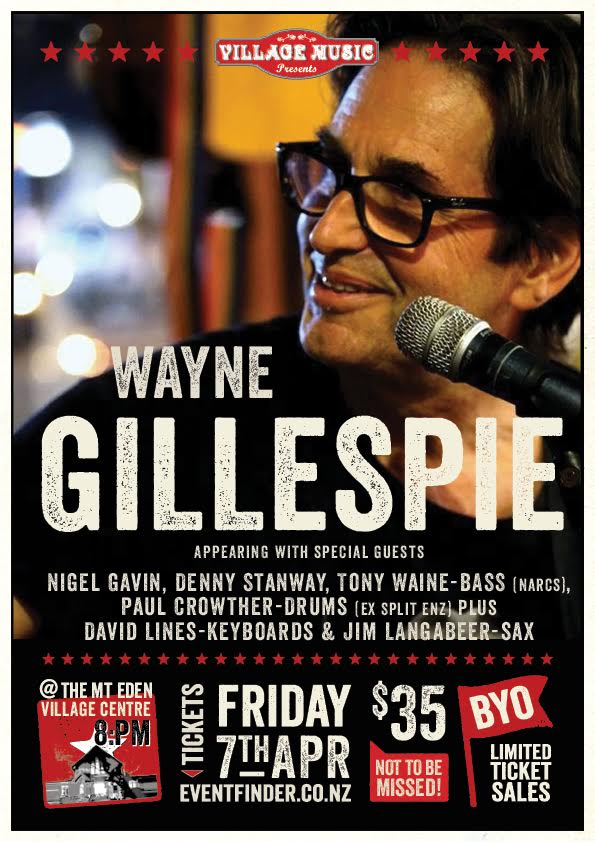 Previous Gig 17 Feb 2017: The Company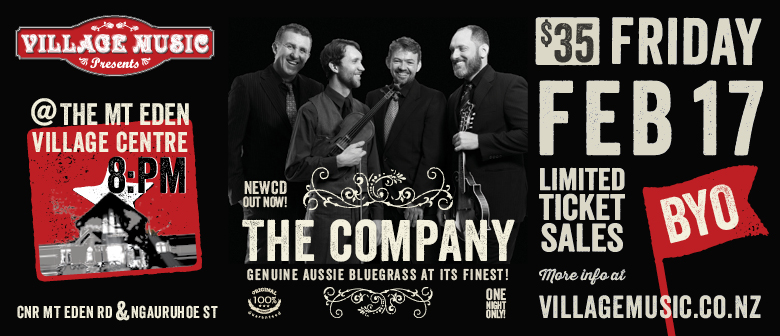 ---
Previous Gig Sep 2016: The Wonderfish Collection
The Wonderfish Collective have a great line-up of real talent on board. They're great to listen to and they're great fun with it. 
That's what Village Music is all about - Great live music, plenty of conviviality and an opportunity to really relax and have a good 'listen', up close with the musicians who are making the music.
This was a special pre-Christmas concert event for Village Music, following a couple of sold out nights on the North Shore.
In keeping with the ethos of these guys, they were once again raising funds for a good cause - this time, on North Head, where there is a need for rescue equipment.
---
Previous Gig Sep 2016: The Narcs
And now for something completely different… In keeping with all that is eclectic, VillageMusic presents the NARCS - A Village Gig.
From the golden age of the 80's these guys have never let it slip. Rikki Morris joins us on the Village Music stage for the first time (having worked the levers for a few of our past soirées, it's great to see him in the line-up for this one) and none other than Pete Warren is sitting in the middle seat for this session - now we really are cooking. Doesn't matter how cold this winter gets - the Narcs know how to turn up the heat… ;-)
This was a great night - there was even be dancing - of course!
---
Previous Gig July 2016: Lou'ana Whitney
In keeping with our Village Music passion for stunning female vocalists, we are delighted to bring Lou'ana Whitney and her band to the The Mt Eden Village Centre.
Lou'ana has been steadily forging a reputation as a great talent for the past few years in various soul/funk/jazz bands and musical collectives around Auckland.
Lou'ana brings a vocal style and a gorgeous delivery that oozes with great feel and character, add to that the musical skills of Dillon Riesterer, Cam Sangster, et al and this promises to be a really delightful evening.
Lou'ana and the band are already rehearsing for it!
Can't think of a better venue than the old hall for these guys - and a Village Music Soiré is the perfect way to enjoy it.
Expecting numbers to be quite high, so get tickets sooner rather than later.
---
Previous Gig June 2016: Derek Lind
Our 2nd Soirée for our Winter Series featured the very accomplished performer and songwriter DEREK LIND, accompanied by:
APRA Silver Scroll winner Guy Wishart (guitar and banjo),
Alan Brown (Hammond A100),
Andrew Horst (Bass),
Kevin Adair (Drums) and
Glenn Ross Campbell (Weissenborn Lap-slide).
Most recently heard on Radio New Zealand a few weeks ago, Lind has played at major arts and music festivals both overseas and in NZ. He has supported international acts such as Sam Philips, Michelle Shocked, and the Hot House Flowers.
His music is in the tradition of the singer-songwriter, drawing its influences from blues, country and rock music. Influences include Dylan, Neil Young, T-Bone Burnette, John Prine, Springsteen, Elvis Costello, Richard Thompson, Peter Case, John Hiatt & Van Morrison.
This was be a concert that will linger in the memories - there aren't too many opportunities to have a really good listen to these guys live - and we're thankful to have welcomed them to our family.